Jimmy Morgan (19/01/1924 to 17/03/2001)
Jimmy won the McRory Cup with St Mary's College, Dundalk, in 1941, the same year he joined Eire Og, which was to be his one and only club. He played midfield for Eire Og and mainly left three quarters for Antrim. In 1948 Jimmy captained the Ogs to the Senior Football Championship.
Throughout the forties he won a number of medals with Antrim, including the Dr Lagan Cup (1943 and 1947), the McKenna Cup (1946 and 1948) and the Ulster Senior Championship of 1946.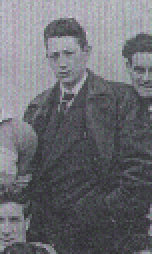 I was very interested in your article, Gaelic Professor, by Peter Makem which brought to mind another player, James (Jimmy) Morgan of Andersonstown, who played with the great Paddy O'Hara, Kevin Armstrong, Hugh Beau McAleavey from Keady who played full back. Jimmy Morgan played for Eire Og, another great team kept together by Rice Brothers, particularly Tommy Rice, no bad team when Belfast football was at its peak.
As far as I remember, O'Connells had 10 players on the Antrim team. In my humble opinion, Jimmy Morgan was a George Best of Gaelic football at the centre-three-quarter position and a very accurate free taker. He won many medals at all grades with that great college St Mary's, Dundalk, club and county football. Maybe he is not remembered because he changed codes. In this Centenary Year, I would like to pay tribute to him, he scored a goal from a 50 in the Gaelic Field, Enniskillen against Fermanagh.
CAHIR McKEOWN
86D Derrin Road,
Enniskillen.