Name

Jonny Quinn
Email Address

jboyso@yahoo.co.uk
Date of Birth

22/12/1984
Position

Half Forward
Previous Clubs

St Malachy's College
Honours

Martin Cup Winner 2005
Martin Cup Runner up 2002
Under 17 Sevens Championship Winner 2001
Antrim Under 16 team 2000/01
Under 12 Player of the Year
Under 12 League Winner
Under 10 Player of the Year
Under 10 Championship Winner
'Undisputed' Club Arm Wrestling Champion 2005
Other Pastimes

Soccer: Jonny has played soccer for a South Belfast League Select team, Belfast Youth and Donegal Celtic. He is currently studying Clinical Physiology and also enjoys playing the guitar in his free time.
Favourite Players

Joe Brolly
Peter Canavan
Rory 'Moonbeam' Casey
Jonny joined Eire Og at a very early age, playing hurling and Gaelic football under Pat Rice. He won the Under 10 Championship with the Ogs and was Player of the Year too.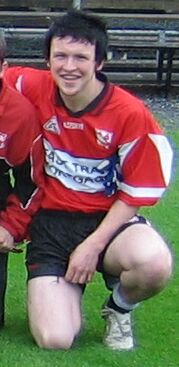 Martin Cup 2005 Final
At Under 12 level Jonny won League honours and again was a Player of the Year. After playing both Football and Hurling ay Under 14 level in 1999, Jonny left for a few years to concentrate on soccer but then realised Gaelic was just as important and came back.
Jonny's most memorable moment was fisting in a goal for Eire Og in the 2005 Martin Cup Final. He also played for St Malachy's College and reached the semi-final in the 'B' championship under Alec McGoran, aka B.A. Baracus or simply B.A. Big Alec was also Jonny's PE teacher, as well as being an Eire Og stalwart himself.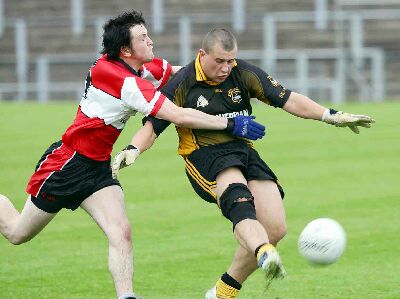 Martin Cup 2005 Final