Matt Morgan
Matt was born on 01/04/1928 and won the Louth Minor Football Championship with St Maryís, Dundalk, in 1944. He joined Eire Og and soon was winning trophies with them, playing both football and hurling mostly as a forward. Indeed Matt has winnerís medals reaching over three decades.
In 1947 Matt won the Antrim Junior Football League, before winning the Senior Football Championship the following year in 1948. This success ranks as Mattís most memorable achievement whilst playing for the Ogs. The 1950ís saw Matt win the 1951 Junior Hurling Championship and 1952 South Antrim Hurling Championship, before winning the County Junior Hurling Championship again in 1967.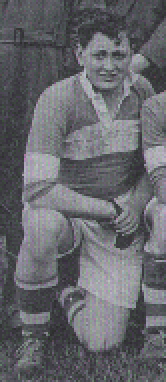 Matt holds his brother, Jimmy, in high regard, being his favourite Eire Og player. Matt also considers Tommy Rice a very good footballer and hurler, whose heart was in the club. Indeed Matt owes his long allegiance to Eire Og down to Tommyís influence.
Matt has seen plenty of highs and lows over the years for Eire Og, yet he still regularly attends matches and is very well thought of throughout the club. His sons Conor and Fintan also played for the Ogs, winning the Martin Cup and Senior Reserve and Minor League titles.